Many people are actually afraid of bikinis - the cloth saved will expose any tiny flaws in the body, and the cheesecake that was eaten yesterday will be picked up on your waistline.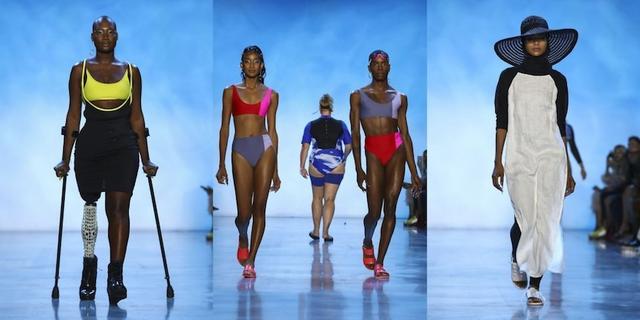 Many people with large size are more willing to hide themselves in large T-shirts even in the summer, even if they are willing to swim in T-shirts.
Recently, the women's brand Chromat released a new series of swimwear at this year's New York Fashion Week, which satisfied many people's wishes. Chromat's new collection, named "Saturation," is inspired by a wet T-shirt that fits the body curve after being wet. However, don't think of the wet t-shirt contest that pleases the opposite sex. Chromat's T-shirt swimwear is a comfortable and secure route.
Chromat's official said: "We want to defend your right to wear a T-shirt by the pool. And we will help you to make these T-shirts beautiful and let you look charming."
The founder and designer of the brand, Becca McCharen-Tran, was an architect before, combining her skills with fashion is her specialty. In his work, McCharen-Tran used 3D printing technology for fashion design and created underwear that can be changed with the body shape, in order to meet the needs of different body types.




Chromat's swimwear collection looks less "conventional."
Chromat's new range of swimwear models are available in sizes up to 3X and will expand in size in the future. Among the exhibits on the catwalk are swimsuits inspired by diving suits, as well as splits, skirts and sun hats. Of course, the biggest highlight is the T-shirt swimsuit.

On the Chromat show, the audience can see swimsuits in the form of loose white T, conjoined skirts, diving suits, wide-leg pants and even garter.

Chromat not only considers the various types of body on the product, but also turns the show into a different display space. At New York Fashion Week, Chromat invited a number of curvaceous large-size models to participate in the catwalk showcased a T-shirt swimsuit called "Standard Body."

On the runway, the size 0 is usually considered to be "standard body". Chromat is intended to break people's obsession with lean body shape and encourage a positive positive body concept. In addition, Chromat invites catwalk models to come from a variety of ethnic, cultural and professional backgrounds, including Mama Cax, an amputational fashionista who actively participates in social activities, Ericka Hart, who beats breast cancer, and Kimberly Drew, social media manager at the Metropolitan Museum.

The fashion circle has always been unfriendly to big size, but this year's New York Fashion Week wants to make a difference. Pop singer Rihanna also did a lingerie show at her own brand, Fenty X Savage, at New York Fashion Week. Models participating in the catwalk also fully reflect the concept of a diverse body - standard models, large size models, sports bodybuilding, and even pregnant model Slick Woods. In an interview with the Associated Press, Rihanna said that the audience will be shocked by the beauty of various body forms and feel the charm and energy of women in different stages of life.


Rihanna's Fenty X Savage lingerie show shows a different body.

TheCURVYcon, which is dedicated to large-sized people, was also held for the second time in New York Fashion Week. For three days, participants can purchase the latest big-size fashion and discuss the body and aesthetic issues.

Founded in 2014, Dia&Co, which sells large-size women's apparel, also launched the #TeeUpChange event with the CFDA (Council of Fashion Designers of America) to launch five T-shirts designed by renowned designers. The price is unified at $35, and the sales revenue will be invested in the education of the future designer's multiple body fashion concept.
In recent years, large-size clothing, especially the large-size women's clothing business, has gained many development opportunities in the context of increasing attention to body problems. From fashion to underwear to sportswear, you can see the big size clothing. In 2017, sports brand Nike launched a large-size sportswear collection ranging in size from XL to XXXL. The products include T-shirts, sweatpants, shorts, outerwear and sports underwear. The largest sports underwear is 38E, and the size is changed. The darker shades of the garments use bright, light design elements such as sequins and prints.

Although the transformation process is relatively slow, the "hard to pick fit size" is becoming "tailor made".